Introducing KURIMOTO's technology
"KURIMOTO Co.,LTD" realizes monozukuri of all products as a total prototype manufacturer. We have the latest equipments such as 3D printers and 3D scanners, and we will respond with short construction schedules, even for one that was impossible until now. We will respond to your request as much as possible, so please feel free to contact us.
CT scanner (Nikon)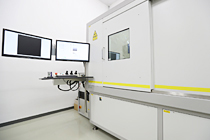 The internal and external dimensions of the product shape can be measured nondestructively and efficiently. Just by placing the product on the table, you can easily measure the shape of the inside and outside and you can check it as 3D data. It can also measure the fiber orientation and fiber length of composite materials containing glass fiber and other materials. It is also possible to check the void position and size inside the product such as thick part.
3D scanner (ATOS II)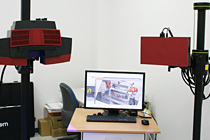 Three-dimensional data can be acquired quickly by shooting the object to be measured with two cameras. Since complicated shapes are drawn precisely to details, measurement can be performed with high accuracy and in a short time. Since it is movable, it is possible to measure even with a large mold without choosing a measurement location.
Combined Environmental Reliability Test System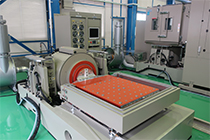 This system can test long term durability of products against complex loads by applying vibration, thermal and humidity stresses simultaneuously. Our facility can offer a vibration excitation test in the vertical and horizontal direction with simulating actual installed situation by using jigs to evaluate your products closer to actual environments. This test system helps you to improve and ensure a reliability of new product qualities so that you can save the time of developing products.
3D printing
Stereolithography (SLA)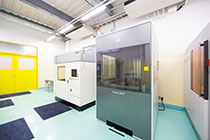 It is a method of curing and irradiating liquid epoxy resin one by one with ultraviolet laser to shape it. It can produce prototype with high definition and smooth surface. It is mainly used for single item visualization model and master model for vacuum casting. Prototypes of transparent lens parts can also be produced.
Selective Laser Sintering for plastic (SLS)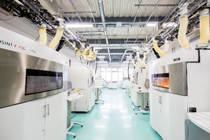 It is a method of forming powdery nylon resin while irradiating infrared laser and sintering it. It is possible to manufacture prototypes with high heat resistance and high durability. Please use it for shape confirmation and functional evaluation of assembly consideration ・mating confirmation・hinge parts etc.
ZAS mold for INJ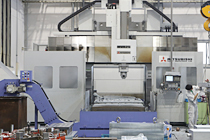 Beginning with the casting of ZAS material, we fully utilize large machining centers and 5 axis machining machines, and we handle all processes of mold design, mold making, molding and measuring in our company. With consistent response at our company, we can realize mold production with high quality and short delivery time.
Machining products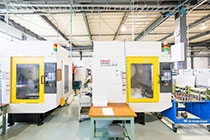 It is a construction method that utilizes a high-performance machining center and cuts the material block and molds it. It is possible to manufacture highly accurate prototypes, such as one item production / various fixtures / wooden model / vacuum casting master model. We can respond to requests of high quality, short delivery time and low cost.
Vacuum casting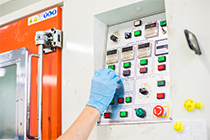 Make a master model that will be the prototype of the parts you want to produce, reverse the model with silicone rubber and do the patterning. This type is "silicon type". Vacuum casting is the method of pouring thermosetting urethane resin into this silicone mold, molding and duplicating. When pouring resin, doing in a vacuum layer is the origin of the name.
This method has the merit that multiple prototypes can be produced quickly and at low cost. We have 5 high-performance vacuum casting machines and we are producing products that meet customer's requirements flexibly.
RIM(Reaction Injection Molding) molding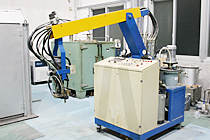 The basic principle is similar to vacuum casting, but RIM molding does not utilize vacuum pressure, but uses the power of the low pressure pump to pour the resin into the mold and harden it. Since we do not use a vacuum layer for forming, large products can be molded without being restricted by the size of the tank. Ideal for large size molded parts such as exterior parts such as bumpers and undercover.
Injection molding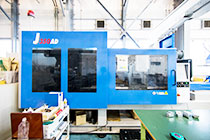 Our company possesses Injection molding with a forming rank of 100 to 1,300 tons, and we consistently produce from mold manufacturing to molding processing in-house. It is used for extraction of problems in mass production process by attending trials during molding.
New construction method
Microwave molding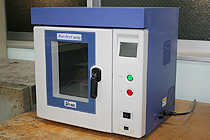 It is a method of forming customer's specified material (thermoplastic resin) into micro pellets, placing it in a mold made using special silicon, heating and melting fine particle material with microwave. By molding using mass-producing molding materials, it is possible to obtain properties equivalent to mass-produced models. It is also possible to produce prototypes with shorter delivery time and lower cost than Injection molding.
Vibration welding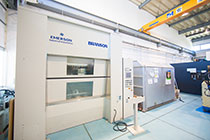 By using the repulsive force of the electromagnetic coil and the spring, reciprocating motion is applied to the parts in a state where the two thermoplastic resin parts are pressurized, thereby generating frictional heat on the parts contact surface and melt bonding. The welding condition of vibration welded parts can be confirmed with a CT scanner.
Decorating Technology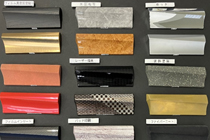 With regard to the design side of the product, an engineer who is familiar with the decoration will match the desired design appearance, shape, and function so that it can respond to the decoration quality required by the customer.
We will select the most suitable decoration method and propose it.
We propose solutions that are ideal for high-mix low-volume production, supplementary production, and customized production.