Introduction of CT scanner / 3D scanner
"KURIMOTO Co.,LTD" has high information sensitivity concerning new technology and new equipment, and actively adopts the latest construction method and equipment positively. Here, we will introduce CT scanner / 3D scanner adopting new technology.
CT scanner (Nikon)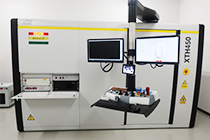 It is a CT scanner that can measure internal and external dimensions nondestructively and efficiently. By placing it on a table, you can obtain a highly accurate X-ray transmission image. It is also possible to realize error display (color mapping) between 3D data and measurement object, confirmation of resin / metal blowhole, and replacement with CAD data (reverse engineering).
In addition to the conventional small machine (MCT225), we have also introduced a large machine (XT H450) to establish a system that can measure larger products with high accuracy.
CT scanner hardware
Manufacturer
Equipment name
Model
Measurable size(mm)
Number
Nikon
X-ray CT system for measurement
MCT225
Bulk scan size:Φ240×H210
Maximum product size:Φ240×H350(divide)
1
Nikon
X-ray CT system for measurement
XTH450
Bulk scan size:Φ300×H300
Maximum product size:Φ300×H600(divide)
1
3D scanner (ATOS II)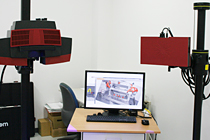 It is a non-contact 3D scanner. Two cameras shoot fast and accurately and acquire three-dimensional data. It is possible to measure complicated shapes with ultrahigh precision in a short time. It can be used in every process of product development ranging from inspection to reverse engineering. Since this machine can move, measurement of metal mold etc can also correspond to direct measurement at the work site. It is a 3D scanner with excellent mobility.
3D scanner hardware
| Manufacturer | Type |
| --- | --- |
| GOM | ATOSⅡ Triple Scan |
Contracted Test Service (Combined Environmental Reliability Test)
We have started "Contracted Test Service" as a new buisiness. We have started "Contracted Test Service" as a new buisiness. The diversification of usage environment and the lengthening of usage years have required more and more these days and that makes ensuring a reliability of products more and more necessary as well.
We have introduced the two new machines of combined environmental reliabitity system to recieve your various requests of evaluating products.
Let me briefly explain about our combined environmental reliabitity system.
Combined Environmental Reliability Test System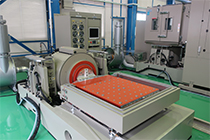 This system can test long term durability of products against complex loads by applying vibration, thermal and humidity stresses simultaneuously.
Our facility can offer a vibration excitation test in the vertical and horizontal direction with simulating actual installed situation by using jigs to evaluate your products closer to actual environments.
This test system helps you to improve and ensure a reliability of new product qualities so that you can save the time of developing products.
Hardware
Brand
Facility
Model
Alowable Size
Quantity
EMIC
Vibration Test System
FH-40K/60
Exciting Force : 4.0t ( in the vertical and horizontal direction)
Vibration Table Size : 800mm×800mm
2
EMIC
Temperature and Humidity Chamber
VC-102DAMYS(53S)
P3X-H/V
Temperature Rang : -70℃~180℃
Humidity Range :30%~98%
Interior Workspace Dimensions
1000mm×1000mm×1000mm
2
Technical introduction of KURIMOTO