Introduction of vacuum casting, RIM molding and Injection molding
As a strength of "KURIMOTO Co.,LTD", there is a wide range of repertoire of construction method. It is possible to consistently respond to everything in-house facilities to help you transition from prototype to mass production of a single item. We will manufacture prototypes that satisfy our customers with the motto of high quality, short delivery time and low cost. Here, we will introduce about vacuum casting, RIM molding and Injection molding.
Vacuum casting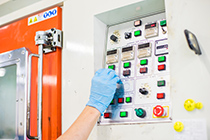 The feature of vacuum casting is that the prototype can be manufactured with shorter delivery time and lower cost than the prototype mold product. Our company possesses five vacuum casting machines and we can consistently handle all the processes such as master model production, silicon mold production, casting, finishing, painting. For products with high required quality and transparencies, flexible masterpieces can be manufactured by resin cutting, and large-sized casting products that do not enter the vacuum tank can be manufactured with low pressure RIM molding, and flexible correspondence is possible.
We will develop original materials according to customer's request and provide casting products that can take test data. Customers wishing to shorten the development period should consider vacuum casting.
Vacuum casting hardware
Scroll horizontally to view the whole table.
Manufacturer's
model
Silicone type maximum size
W × D × H (mm)
Number
ILBEOM
ChemVac-150DP
1,180×1,400×800
3
ILBEOM
ChemVac-100DP
980×900×800
1
TAKADA MICRO ENTERPRISE
TVC-850
600×700×600
1
Usable material
We deal with material grade which is close to the physical properties of regular material such as PP equivalent ・ABS equivalent・rubber equivalent etc. We propose more suitable according to customer's request.
RIM molding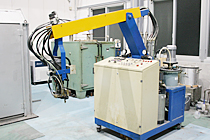 RIM molding is ideal for large prototypes such as bumpers, door trims and instrument panels. By using RIM molding, prototyping with short delivery time and low cost is possible compared with large INJ type. Even when manufacturing vacuum casting products, use RIM molding when the product size is larger than the vacuum tank.
The basic material is urethane resin, and the material grade of RIM molding has a wide grade. Mold material is wood type / resin type or silicone type. When it corresponds with wooden type and resin type, the mold life is longer than the silicon type, and the wall thickness can be brought close to constant.
RIM molding hardware
Scroll horizontally to view the whole table.
| Maker | Forming rank | Equipment name | Model | Number |
| --- | --- | --- | --- | --- |
| Met Japan Japan | 8kg / min | RIM molding machine | SRL-8 | 1 |
Injection molding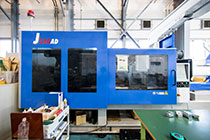 We have seven Injection moldings ranging from 100 to 1,300 tons in molding rank. Since we are consistently compatible with our company from die making to molding production, we can also witness the molding trial of the mold made. In addition, we do not correspond only to molding by lending of molds. Please note.
Injection molded hardware
Scroll horizontally to view the whole table.
| Maker | Forming rank | Equipment name | Model | Number |
| --- | --- | --- | --- | --- |
| Mitsubishi Heavy Industries, Ltd. | 1,300t | Hydraulic Injection Molding | 1300MMⅢ-160 | 1 |
| JSW | 850t | Electric Injection molding | J850AD-3900H | 1 |
| JSW | 650t | Hydraulic Injection Molding | J650EⅢ | 1 |
| JSW | 350t | Electric Injection molding | J350AD-890H | 1 |
| JSW | 220t | Hydraulic Injection Molding | J220EⅢ | 1 |
| JSW | 140t | Electric Injection molding | J140AD-60H | 1 |
| FANUC | 100t | Electric Injection molding | S-2000i 100B | 1 |
Technical introduction of KURIMOTO