Introduction of new construction method
"KURIMOTO Co.,LTD" has high information sensitivity concerning new technology and new equipment, and actively adopts the latest construction method and equipment positively. Here, we will introduce microwave molding / vibration welding which adopted new technology.
Microwave molding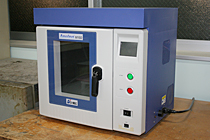 Microwave molding is a method of micropelletizing a molding material (thermoplastic resin) for mass production, heating and melting fine-particle material with microwave using a special silicon mold, and molding. For the master model, use light molded parts and resin cutting parts.
In addition, it is also possible to use molding materials for mass production, so it is also possible to shape them by micropelletizing the exclusive grade of our customers. However, depending on the material "Great", there are some materials which can not be molded, so please contact us for details.
Microwave forming hardware
Manufacturer
Type
molded article size
W × D × H (mm)
D-MEC
Amolsys M150
150×150×
50mm
Q

What is the difference between "optical molding" and "microwave molding"?

A

The heat source is "light molding" for halogen lamp equipment and microwave equipment "microwave molding".
Vibration welding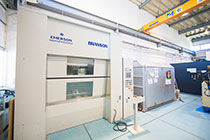 The basic principle of vibration welding is to use the repulsive force of the electromagnetic coil and the spring. The reciprocating motion is applied to one part with the upper and lower parts of the thermoplastic resin parts being pressurized, and friction heat is generated on the contact surface of the parts to melt-bond. Our company consistently deals from product design to die making, molding and vibration welding at our company.
Vibration welding hardware
| Manufacturer | Type |
| --- | --- |
| BRANSON | M-824H |
Decorating Technology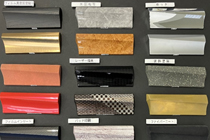 We have a wide variety of decorative technology menus that can be applied to any appearance desired by customers.
An engineer who is well-versed in decoration, according to the desired design appearance, shape and function,we select the most suitable decoration method and propose it.
By providing a one-stop support for decoration processing in accordance with various molding and molding processing, we can provide the appearance product that the customer desires with high quality, short delivery time and low cost.
We can propose the optimal solution for high-mix low-volume production, replenishment production, customized production, etc.
Technical introduction of KURIMOTO