Introducing the facilities of KURIMOTO
"KURIMOTO Co.,LTD" actively introduces the latest equipment so that we can respond to customer's demand such as high quality, short delivery time and low cost to the utmost. Here we introduce the equipment our company introduces.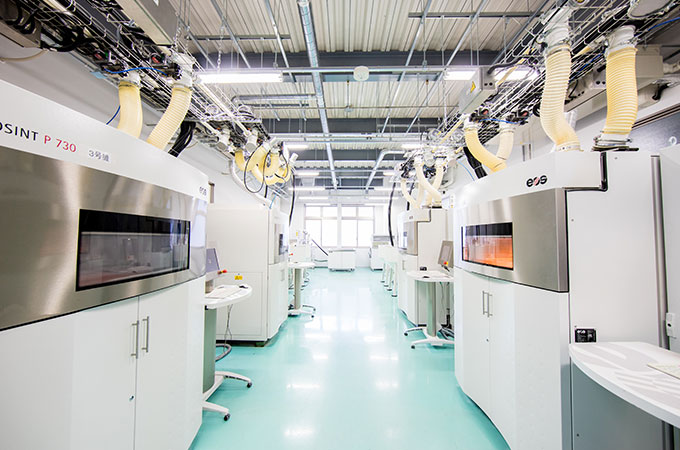 Hardware
3D printing・Stereolithography (SLA)
Carbon / M2 2 units
CMET / RM-6000Ⅱ 1 unit
D-MEC / BA-85S 1 unit
3D Systems / ProX 800 1unit
3D Systems / SLA 7000  2 units
3D printing・Selective Laser Sintering for plastic (SLS)
3D Systems / VANGUARD HS (HiQ specifications) 3 units
3D Systems / SINTERSTATION HiQ + HS  3 units
3D Systems / sPro 140 HS  1 unit
eos / EOSINT P 730 3 units
eos / EOSINT P390 1 unit
Machining products
OKK / VM 76R 1 unit
OKK / VM 53R 1 unit
OKK / VB 53 1 unit
FANU C / α-D21LiA5  10 units
IWAMA / MM1000Ⅱ  4 units
Vacuum casting machine
ILBEOM / ChemVac-150DP  3 units
ILBEOM / ChemVac-100DP  1 unit
TAKADA MICRO ENTERPRISE / TVC-850 1 unit
RIM molding machine
MET ? J / SRL-8 type
Mold Machining
MAKINO / MCC2516VG 2 units
MAKINO / MCC2013VG 2 units
MAKINO / MCC 2013 2 units
MAKINO / V99L 4 units
MAKINO / V77 2 units
MAKINO / V56 2 units
MAKINO / V 56i 1 unit
MAKINO / V33i 1 unit
MAKINO / D 500 1 unit
MAKINO / V56-5XB 1 unit
MAKINO / N2-5XA 2 units
KITAMURA / BRIDGEcenter-8G 1 unit
KITAMURA / BRIDGEcenter-6G 1 unit
MAKINO / D200Z 1 unit
5 surface processing machine
Mitsubishi Heavy Industries / MVR 25
Wire electric discharge machine
Sodick / AG 360 L
Sodick / ALN 600 G
Gate type milling cutter
CHUO-SEIKI/TYPE C-25
Radial drilling machine
TOMINAGA/TRE-1700
TOMINAGA/RX-1300
General-purpose milling cutter
MAKINO/KSJP
MAKINO/KB
Ladder
MAZAK
Injection molding
Mitsubishi Heavy Industries / 1300 MM III-160
JSW / J 850 AD - 3900 H
JSW / J 650 E III
JSW J350AD
JSW / J 220 E III
JSW / J140AD-60H
FANUC / S-2000i 100B
CMM
Tokyo Seimitsu / ZYZAX SVA 1015 A 2 units
SVA 800A 1unit
CT scanner・3D scanner
Nikon METROLOGY / MCT 225 1 unit
GOM / ATOS II Triple Scan 1 unit
Microwave molding machine
D-MEC / Amolsys M 150 (microwave irradiation molding system)
Vibration welding
BRANSON / M-824HJ
Application
CATIA V5/Solid Works/NX5/Magics/CAM-TOOL/CAD meister
Data form
CatPart/model/DXF
IGES/STEP/Cfio
x_t/STL/prt
Quality control of KURIMOTO
"KURIMOTO Co.,LTD" has established a rigorous quality control system within the company in order to realize high-quality prototype production, thoroughly inspects and measures, and delivers only products that meet the required quality. Here we will inform you about our quality control.
ISO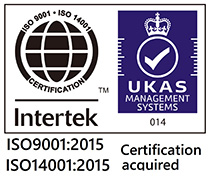 We have acquired ISO9001 and ISO14001 from Intertek (Intertek Certification Co., Ltd.,) an ISO screeing agency.
[Certification registration number: ISO9001 / 10663]
[Certification registration number: ISO14001 / 13864]
Quality assurance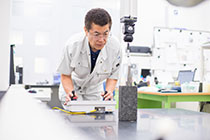 We have installed three 3D measuring machines. Also newly introduced CT scanner and non-contact 3D scanner are responsible for guaranteeing quality. By thoroughly conducting measurements at the completion of each process and shipment of finished products, we promise the quality of the products to be shipped.
Products that do not satisfy the required quality are fed back to the previous process and re-inspected after correction. If there is no problem, we will deliver the product together with the measurement result to the customer.
CMM
Tokyo Seimitsu / ZYZAX SVA 1015 2 units
Tokyo Seimitsu / ZYZAX SVA 800 A 1 unit
CT scanner
Nikon  MCT225  1unit
Nikon  XTH450  1unit
3D scanner
GOM / ATOS II Triple Scan 1 unit